¿Qué es Productsup?
Productsup proporciona un SaaS galardonado para la integración, optimización y distribución de contenido de producto en el ámbito comercial.
Al ofrecer una gama de soluciones como gestión de fuentes, integración en el mercado, incorporación de vendedores/proveedores y sindicación de contenido de productos, Productsup ayuda a las marcas y minoristas a validar, estructurar y enriquecer el contenido de sus productos en miles de canales minoristas y digitales, incluidos Amazon, Walmart, Google y Facebook.
¿Quién usa Productsup?
Marcas empresariales y fabricantes, grandes comercios minoristas, mercados, agencias de marketing digital, filiales y redes de publicidad con motores de personalización.
¿Dónde se puede implementar Productsup?
Basado en la nube
Entorno local
---
Sobre el proveedor
Productsup
Ubicado en Berlin, Alemania
Fundada en 2010
Asistencia de Productsup
Asistencia telefónica
Chat
Idiomas
alemán, francés, inglés
Sobre el proveedor
Productsup
Ubicado en Berlin, Alemania
Fundada en 2010
Asistencia de Productsup
Asistencia telefónica
Chat
Idiomas
alemán, francés, inglés
Imágenes y vídeos de Productsup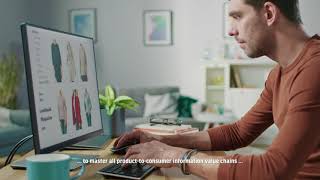 Comparar el precio de Productsup con productos similares
Funciones de Productsup
API
Alertas y notificaciones
Biblioteca de contenidos
Búsqueda/filtro
Catalogación/Categorización
Categorización/Agrupación
Control de calidad de datos
Creación de catálogos
Creación de contenidos
Creación de informes y estadísticas
Gestión de activos digitales
Gestión de canales
Gestión de comercio electrónico
Gestión de contenidos
Gestión de datos del producto
Gestión de inventarios
Gestión de pedidos
Gestión de precios
Integraciones de terceros
Integración del mercado
Marketing multicanal
Modelado de datos
Modelos
Personalización
Publicación de bases de datos
Alternativas a Productsup
Roy
Manager Marketing Technology en Países Bajos
Usuario de Linkedin verificado
Electrónica de consumo, 1 001-5 000 empleados
Ha utilizado el software durante: Más de dos años
Absolutely indispensable part of our marketing stack
Puntos a favor:
We have been using Productsup for a few years now, and are still amazed at the level of control over data it gives to us as a marketing department. Without relying on expensive and scarce development resources, we can create, improve, and send out data to all our partners. We even use it to power things for our own platform. The tool is very user friendly but still very flexible and powerful (though, of course, there is somewhat of a learning curve in the beginning). We don't really use the standard channel integrations, even though they seem to work just fine, but are ale to build our own custom dataflows exactly to our liking. Being able to quickly change product data has helped us out many times over the past year.
Contras:
Sometimes during (short, not often) performance hiccups or downtime, the status page isn't updated frequently enoug, which makes it a bit difficult to estimate the severity and estimated length of the problem.
Respuesta de Productsup
hace 3 años
Hi Roy, thanks a lot for your feedback! It is great to hear you are satisfied with the platform and it's still meeting all your expectations after all these years of usage. For us it is very important that our clients can customize the platform to their individual needs and your account is a perfect example for this. Although the learning curve in the beginning can be a bit of a challenge, we want to make sure you always feel secure and supported when using our tool - so never hesitate to reach out! We revised the process for our status page updates and will keep it up to date with more detailed information than before. However, if you ever find a post that is not giving you all the answers you need, let us know and we will look into it! Thank you for your input! - Lena Wisser, VP Client Solutions
Antoan
Team Leader, Product Data Management en Bulgaria
Usuario de Linkedin verificado
Internet, 51-200 empleados
Ha utilizado el software durante: Más de un año
ProductsUp is very powerful and solves our data transformation challenges.
Comentarios: We are dealing with a lot of data transformation challenges and Productsup has helped us overcome these in a very efficient way and has greatly reduced the amount of duplication in our work. It has also greatly improved the speed with which we are able to publish products and the quality of the content we publish as we are able to extract and structure more meaningful information from the data we receive.
Puntos a favor:
Productsup has a huge amount of integrated functions to automate the product data processing. There are predefined templates for a large list of marketplaces and it is also highly customizable, so it fits our specific needs. Our Product Data Team are happy to use it because there is no codding needed. Data transformation rules are applied via a drag & drop interface and one big advantage is that you can instantly see the results in the data view. The support is great! We always receive a very fast and helpful response. If there is something that the 1st line support cannot handle, it is immediately escalated to the IT team and then quickly resolved. We also like that they are constantly improving the product - adding new features, channels, improving the overall performance and they listen to customer feedback.
Contras:
It takes a bit of time to get familiar with the system, because it has so many functions. A facility to track changes would be nice, because usually more than 1 person works on a project and it can get a bit messy.
Respuesta de Productsup
hace 4 años
Hi Antoan, thanks a lot for your feedback! It is great you love our platform so much and appreciate all the features that make it so intuitive and easy to use. The support team is always happy to help you with any future feed challenges or hosting an in-depth session on new features whenever they are released :) The change log is a feature a lot of clients would like to see implemented into the platform and we definitely have it on the roadmap! The new Data-View will automatically refresh once another user saves a change, so adjustments are a bit more transparent with multiple active users. Please don't hesitate to reach out to us in case you have any more ideas for features or improvements! - Lena Wisser, VP Client Solutions
Justin
Director en EE. UU.
Marketing y publicidad, 51-200 empleados
Ha utilizado el software durante: Más de un año
Alternativas consideradas:
Great Feed Management Product
Puntos a favor:
Ease of use, level of expertise from support, willingness to help figure out account solutions; best overall feed product I've worked with
Contras:
Nothing major comes to mind, generally effective solution
Respuesta de Productsup
hace 3 años
Dear Justin, thank you so much for taking the time and leaving a review on our platform! It is a big honor to hear that we are the best feed product you ever worked with - I can promise you that we will continue to work hard so it stays that way. If you ever want to learn more about certain features or have improvement ideas, please reach out to us. - Lena Wisser, VP Client Solutions
Alice
Digital Performance Manager en RU
Muebles, 51-200 empleados
Ha utilizado el software durante: Más de un año
Flexible and Reliable Tool & Exceptional Customer Service
Puntos a favor:
Very flexible Product Management Tool that helped us implement all rules we need. Reliable, consistently working well without anything braking. The best customer service I ever met.
Contras:
The help center. Unless you know the exact ProductsUp terminology of what you are looking for, you can't find the article you need. But because the customer support replies fast, things are always sorted out fast.
Respuesta de Productsup
hace 3 meses
Dear Alice, Thank you so much for your positive response and for taking the time to provide feedback. It makes me very happy to read how important we are in your day-to-day business and that you enjoy working with our support team! Thank you for the feedback on the help center, it is always important for us to get feedback to make improvements. Thank you, Kate Wittstock Global Head Client Success
Usuario verificado
Ad Operations Specialist en Alemania
Usuario de Linkedin verificado
Marketing y publicidad, 1 001-5 000 empleados
Ha utilizado el software durante: Más de dos años
Working with product feeds in 50 markets, made easy!
Comentarios: The support of ProductsUp is amazing, and super friendly. They know what they're doing, and not once disappointed me when asking for help!
Puntos a favor:
Productsup is one of the tools I like most to work with. It's straight forward and easy to use. Building new feeds has been made even easier than it was before, with the pre-set templates for different publishers like Google,Facebook,Yahoo etc.. Building a custom feed from the main one is very easy, as it's done via a drag and drop system. You can prepare the feed based on the publisher's requirements, and have it exported within minutes. Everything from that point on is automatic and will be updated daily (or depending on the chosen interval). If something needs to be changed, it's also super easy. The preview data mode is very useful on troubleshooting issues and it auto-refreshes on every change that is made on the columns.
Contras:
Being able to add one column or box to many feeds at once, instead of one by one.
Respuesta de Productsup
hace 3 años
Dear reviewer, this is fantastic feedback, thank you so much! Really appreciate that you are so happy with the platform, the functionalities and our Support team. We put a lot of love in it and are always happy to hear that we can create a delightful experience! The Bulk Feature request sounds very interesting! Please run this past our Solutions team together with the use case and we will definitely have a look into it, then either provide a workaround, do it in our backend as a one-off solution or create a feature request with our Engineering team. We are constantly extending the functionalities of this feature and are more than happy for any input :) Thank you! - Lena Wisser, VP Client Solutions