Ideta
¿Qué es Ideta?
Con un solo clic, consigue que tu chatbot sea completamente multicanal e impleméntalo en cada punto de contacto (página de aterrizaje, Facebook Messenger, WhatsApp, Slack e incluso mensajes de
Leer más
texto), todo con la integración personalizada de Twilio. Puedes agregar inteligencia artificial gracias a su interfaz sin código fácil de usar, así como conectarla a múltiples proveedores de PLN, como Dialogflow, Luis o Alexa. La solución facilita la conexión a cualquier software a través de su API y permite enviar información de los clientes a tu CRM sin necesidad de programación.
Mostrar menos
¿Quién usa Ideta?
Su mercado objetivo son empresas que desean aprovechar la IA conversacional sin complicaciones. Los casos de uso son muy variados, desde RR. HH. hasta TI y marketing. El límite lo pone la imaginación.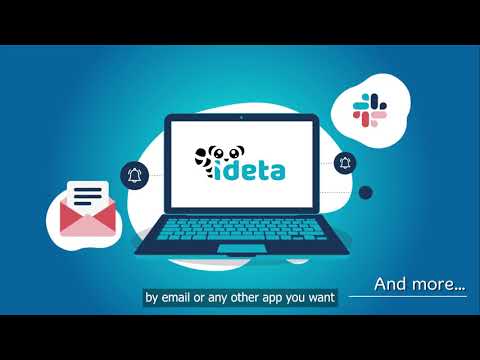 ¿No estás seguro sobre Ideta? Compara con una alternativa popular
Versión gratuita
Prueba gratuita
Versión gratuita
Prueba gratuita
No se han encontrado integraciones
¿Por qué estoy viendo esto?
Alexis
CEO en México
Usuario de Linkedin verificado
Marketing y publicidad, Trabajador autónomo
Ha utilizado el software durante: 1-5 meses
Alternativas consideradas:
Muy buena alternativa a otros sistemas de chatbots
Comentarios: Me parece que será una de las mejores empresas de chatbots
Puntos a favor:
Permite implentar los chatbots en cuestión de minutos
Contras:
Tiene muchas herramientas y pudes confundirte un poco entre ellas
Zachary
President en EE. UU.
Usuario de Linkedin verificado
Software informático, 2-10 empleados
Ha utilizado el software durante: Más de un año
I wouldn't run my business without Ideta.
Comentarios: We are incredibly lucky to have found such a partner. I wouldn't run our business without them.
Puntos a favor:
Incredibly easy to use. Links and syncs quick, and has had 99% uptime since implementing
Contras:
The UI does need tweaking. But after hearing the user feedback they already started making proactive and positive changes
Edison Augusto
CEO en Colombia
Redes informáticas, 2-10 empleados
Ha utilizado el software durante: 1-5 meses
Alternativas consideradas:
Great chatbot and easy to use
Comentarios: The time I've been there has seemed to me an application of a very good level and very advanced functionalities (more than expected). I was positively impressed with everything it brings.
Puntos a favor:
The application has many interesting features and the possibility of extending its options with dialogflow. I think it's one of the best apps I've ever bought. After you understand the interface well, you can easily implement the chatbots and adapt them to the requirements of my clients.
Contras:
the interface is difficult to understand, and the options could be improved depending on where they are placed, as well as the editor, which can be improved compared to other chatbot applications. I hope they improve that part.
Youness
Digital innovation officer en Marruecos
Agricultura, 10 000+ empleados
Ha utilizado el software durante: 6-12 meses
Ideta review
Comentarios: we were solving acces management to our headquarter
Puntos a favor:
its easy and self service chatbot plateforme for creating chatbots
Contras:
some software buggs during the production
Respuesta de Ideta
hace 3 años
Thx for helping us making this product better.
Jorge
CEO & Founder en México
Marketing y publicidad, 2-10 empleados
Ha utilizado el software durante: 1-5 meses
Alternativas consideradas:
Simple, easy to use chatbot with lot of power
Comentarios: I had a great experience using Ideta. Although easy to use, is full of features that I havent seen in other chatbots and I believe is really promising. For example the comments automation for Facebook. The more I know the software, the more I enjoy it.
Puntos a favor:
The capabilities it has for implementing a chatbot on your website. Has sliders with images for your client to chose from, easy to use dialog and store of important data. Also has out of the box validation for email (really important in my opinion) and a "are your still there?" automatic dialog.
Contras:
Some out of the box features that I need to work around to cover, like Google Ads integration and some specific entities store in NLP (Dialogflow specifically). Im confident that the development team is covering this sooner than later so Im looking forward to develop new projects with Ideta.